Our fallen members – Androscoggin Amateur Radio Club, Inc.
Gone, but never forgotten
Richard "Dick" G. Knight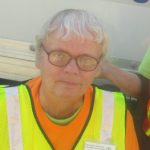 July 6, 1956 – January 12, 2023
Richard G. Knight, age 66, passed away suddenly on Thursday January 12, 2023 at home. He was born July 6, 1956 in Lewiston, the second child of Gordon and Virginia (Gammon) Knight. Richard attended and graduated from Oxford Hills High School, and went on to complete his education from Central Maine Vocational/Technical school in Auburn with a 2 year degree in Electronics. In high school he had taken the business school curriculum, and graduated with an award from Husson College for his performance in his business classes.
Even before he graduated high school, Richard had studied for and passed an FCC license test to obtain a 3rd Class Commercial radio operator license, which he used to obtain his first job at the local radio station WKTQ (AM) in South Paris, spinning records, DJ-ing, and operating the transmitter as the radio station's engineer, as "Dickie Knight in the Night Time" while still attending high school. Over the course of his life, he worked for WNWY (FM) and stayed with that station when it became WOXO (FM) & WXIV (AM) under Gleason Radio Group, and also spent time working at WLAM (AM) in Lewiston/Auburn. He eventually moved into TV working at Channel 8 WMTW-TV working behind-the-scenes running the video board for the nightly news and other shows. After that he finished his career working for a few years at Yankee Microwave in Harrison.
Early on he was also a local news stringer for Turner Broadcasting System and CNN, and worked as an on-call substitute teacher for SAD 17 and OHHS.
Never having enough to do, Richard also became a licensed motion picture operator and worked at various movie theaters around the area, beginning as the projectionist at the Magic Lantern in Bridgton and was working there for the world premier of Stephen King's 'The Shining'. He was also a projectionist at the White Mountain Drive-In in North Conway, and the Auburn Mall Twin Cinemas.
Richard was also a well-known ham radio operator N1NYW. He and his mother (N1NYV) participated in many ham related club and 'field day' activities. Richard was the club secretary for the Androscoggin Amateur Radio Club (AARC) where he will be missed by all members.
Richard was predeceased by his loving father Gordon, and is survived by his mother Virginia, and his 3 brothers: George, Stephen and Michael.